Model No: PS-225-OW
Permasteel 80-Quart Oak Wood Style Patio Cooler with Wicker Bottom Shelf
$249.99
In stock
Are you planning an upcoming party or event? Make sure it's a fun and memorable one with the Permasteel 80-Quart Rustic Woodgrain Style Patio Cooler with Wicker Bottom Shelf! This stylish outdoor cooler has all the features and convenience you need to make your gathering a hit. Its 80-quart capacity gives you plenty of storage for beverages, snacks, and more, while its insulation and durable construction keep your items cold and safe from the elements. The woodgrain style finish adds a modern touch to any outdoor decor, making it perfect for any get-together or outdoor celebration. Plus, the handy bottom shelf provides additional space for bar accessories, towels, cups, and more. Easily roll the 80-Quart Woodgrain Style Patio Cooler around on its convenient wheels so that you can move it wherever your gathering is taking place. Everyone will be thankful to find their favorite ice-cold drinks waiting just steps away! So who's excited? Let the party begin with this amazing Permasteel patio cooler!
Oak Wood Finish
Large 80-Quart Storage Capacity
Fits up to 110 cans (12 oz) or 50 bottles (16.9 oz)
Insulated Basin to Keep Drinks Cold
Fully Removable Top Lid with Split Hinge
Double-Sided Handles
Built-In Bottle Opener and Cap Catcher
Includes Drain Plug
Swivel Wheels and Locking Casters
Material: Powder-Coated Steel
Measures 34.69" x 18.62" x 35.12" (LxWxH)
Weighs 44 Lbs.
Free Standard Shipping on All Orders Over $50
Same-Day Shipping on Orders Placed Before 10 AM PST
30-Day Return Policy on All Items (see details)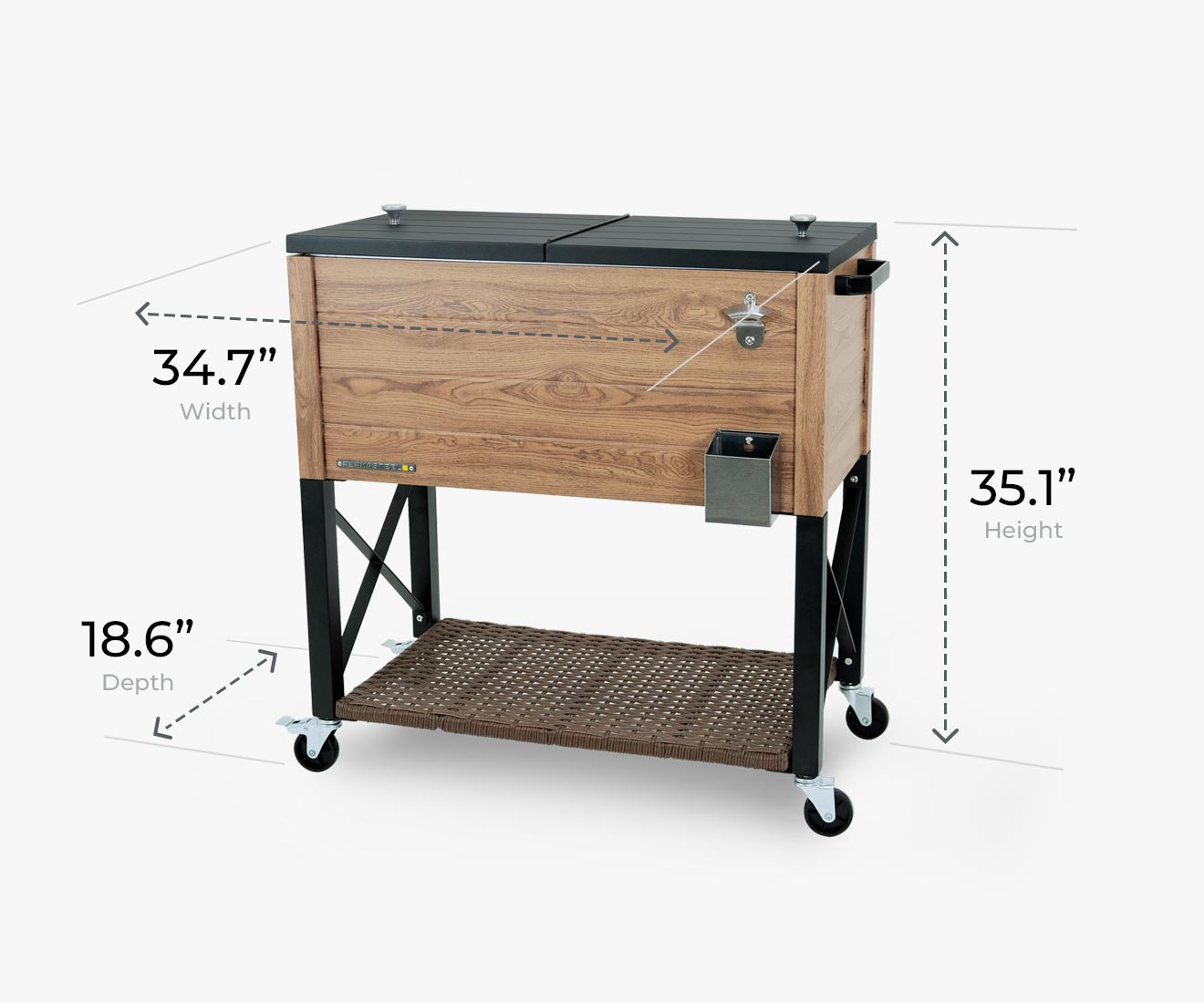 Compact Dimensions
Ideal for hosting a gathering or taking up minimal space! This cooler is the perfect addition to any home.
Built-In Bottle Opener & Cap Catcher
Easy to use, mess-free and you don't have to worry about any stray caps flying around!
Includes a Convenient Drain Plug
Quick and simple access to empty out all the ice water.
Permasteel 80-Quart Oak Wood Style Patio Cooler with Wicker Bottom Shelf